At Ray White West Torrens we like to get local,
Current and past organisations we support:
Muscular Dystrophy South Australia (36-38 Henley Beach Rd Mile End / T 08 8234 5266 / http://mdasa.org.au)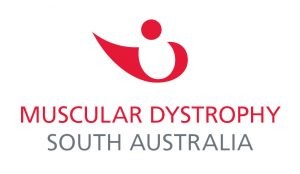 Muscular Dystrophy South Australia
"Muscular Dystrophy is a Neuromuscular, genetic condition that weakens the muscles that help the body move and function. Someone with Muscular Dystrophy could develop muscle problems as a baby or their symptoms could start later in life as an adult . One in one thousand people are affected by muscular dystrophy, which can lead to a short life expectancy. There is no cure! But with everyone's support we can continue to help improve quality of life for those who live with a neuromuscular condition."
Can:Do 4Kids (59/61 Grange Rd, Welland / T 08 8100 8200 / http://www.cando4kids.com.au/)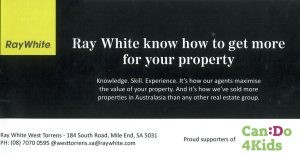 CanDo-4Kids
"Can:Do 4Kids, Townsend House, is South Australia's oldest charitable service provider, offering vital therapy and support to children and young people who are blind, vision impaired, deaf or hearing impaired.
Established in 1874 by William Townsend as a school and accommodation for deaf and blind children, Townsend House has provided family-centred support for over 140 years.
It is estimated that up to 10,000 South Australian kids face every day with a vision or hearing impairment."